O'God, Another Blog

This blog is named after famed Chicago DJ from the Golden Age of Jazz
, the 1950s,
Holmes "Daddy-O" Daylie
.
Dad-E-O on the Rad-E-O.
"The music host who loves you the most." Sunday nights on one of Chicago's 50,000-watt stations, WMAQ, was time for Daddy-O's Jazz Patio. Daddy-O was a man of poetic patter and fluid-drive jive. And Daddy-O came in clear on clear nights though you had to keep fine tuning with the pots or moving the antenna around if there were weather disturbances between wherever you were and Chicago.
--------------------------------------------------------------------------------------------------------------
Jazz Giant Buddy Collette Passes at 89


William Marcel "Buddy" Collette
(August 6, 1921 – September 19, 2010) was an American
tenor saxophonist
,
flautist
, and
clarinetist
. He was highly influential in the
West coast jazz
and
West Coast blues
mediums, also collaborating with saxophonist
Dexter Gordon
,
drummer
Chico Hamilton
, and his lifelong friend,
bassist
Charles Mingus
.
I remember the first time I heard Buddy...it was in the 1950s on an off-label label out of Los Angeles--the musicians on the album cover were wearing masks. There was no personnel listed on the album--you were supposed to guess who they were. One was Buddy Collette and I recognized him from his flute and saxophone playing and the fact that one of the tunes writers was given as "Collette."
------------------------------------------------------------------------------------------------------
Jazz Art
Beauford Delaney (1901-1979)
---------------------------------------------------------------------------------------------
Romare Bearden (1911-1988)
---------------------------------------------------------------------------
Charles Ellsworth "Pee Wee" Russell (1906-1969)
-------------------------------------------------------------------------------------------
Las Mariachis

del Mexico
Once a year, Guadalajara, Jalisco, Mexico, pays respects to its being the mariachi capital of all of Mexico by bringing together in one huge concert several of the best mariachi bands in all of Mexico backed by the Jalisco Philharmonic.

Serenading mariachis and charros (cowboys) scattered across Mexico and the world return to the motherland, Jalisco state, for the annual Guadalajara International Mariachi & Rodeo Festival. Admire their typical wide-brimmed hats and fine regalia at concerts, parades and contests.
Mariachis and cowboys fill Guadalajara's city centre with music and the clip-clop of horses on the first day. Mariachi concerts, many accompanied by the Jalisco Philharmonic Orchestra, take place in the Degollado Theatre and Telmex Auditorium throughout the festival.
And that's what I watched on Mexican television last night--I suppose it was the closing concert--and it was beyond the normal in terms of music, performance, the virtuosity of the performers, the exquisite voices, all full of that special Mexican macho one finds especially in confident men like these mariachis represented in this concert. It was wonderfully produced--in the absolutely super old Degollado Theater--it looks like La Scala--and the Jalisco Philharmonic is a groovin' orchestra and they provided a proper backdrop of lushness needed for the absolute perfection of the mariachi performers in their knowledge of the songs and the arrangements--without sheet music--though the Philharmonic did have scores. The show brought together the famous
Mariachi Vargas de Tecalitlan
who have been around for at least 50 years. I remember when I lived in Mexico City in the 60s, Mariachi Vargas was one of the top most popular mariachi units--under the direction of Miquel Vargas. Besides Vargas, there was also
America
; and the very popular band of Nati Cano's,
Mariachi Los Camperos
(it's 50 years old this year, too); and a very interesting raw sort of band from Lake Chapala, Jalisco. Yes, the same old tunes went around the horn, but they were played diffently than I'd heard them before--and I've heard several of these concerts over the years--
Guadalajara, Malaquena Sala Rosa, Besame Mucho, La Bamba, Cielito Linda, Jesusito in Chihuahua, etc.
Here's Mariachi Los Camperos Website, check it out:
www.opus3artists.com/artists/mariachi-los-camperos

They all finished together on the bandshell in the Plaza de Armas, the plaza where mariachi was born.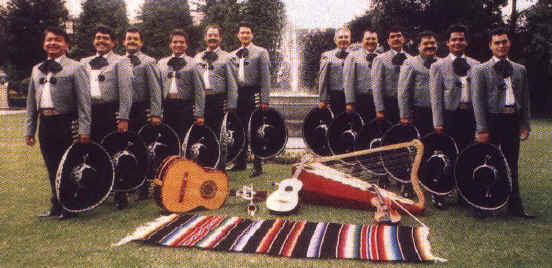 Mariachi Vargas de Tecalitlan
I lived in Mexico City in 1965 for most of that year. I was married to a Tex-Mex lady who spoke Spanish so I was able to go where most Gringos fear to tread without much of a problem. I had bought before leaving the States a set of bamboo flutes, a soprano, an alto, and a big baritone one. By the time I moved to Mexico City, I was playing jazz on them fairly proficiently. Having already been a lover of Mexico and the culture and the people since I was a kid--I visited
La Frontera
cities many times over the years with certainly an interest in mariachi music, a music I had listened to enough I knew several of the classical tunes by heart. One day, with my wife as my guide, I took my flutes down to Garibaldi Square to the Tenampa Nightclub (it was still open as was the Santa Cecilia Restaurant). My wife and I ordered a bottle of tequila, a bowl of limes, a shaker of salt, and soon we were approached by one of the mariachi bands out of the hundreds in this huge place--each band moving from table to table--charging in those days 18 pesos for a song, which was like $2.50 in US money. I listened to about 10 bands and then this band fresh in from Guadalajara came up--the leader of the band was El Leon--they were a regular guitar, a bajo sexto, two violins, two trumpets, and El Leon singing and playing the Mexican harp--an amazing little instrument that is so celestial in its sparkling sound when it is played right. I bought a tune from El Leon--I don't remember the exact tune, but it was one of the songs off a Mariachi Vargas LP I had back in the States--and after they got it going, I took out my alto flute and started playing along with them. It worked like a charm. What happened was, I hired El Leon and his band to stay for a couple of hours--bought them all a round of tequilas, and I played with them the rest of the afternoon. It was not only fun, but profitable for El Leon, to boot, as crowds of people would gang around our table and get into El Leon and El Gringo playing together--why, I made El Leon so popular, after my couple of hours were up, they got a wedding gig off a young couple. After that first day, I went back to Garibaldi faithfully once a week, each time taking my bamboo flutes with me and hitching onto a mariachi band for a couple of hours of good drinking and tapas and good music--I mean, these young mariachi musicians were so dedicated and
cojunto
in spirit, they truly intrigued and amazed me. Some of them were classically trained, mainly the trumpet players and the violin players, though their interest was unity and hitting notes in unison exactly--making a mistake--like blowing a clam on the trumpet or missing a lick on the
bajo sexto
is enough to get you run out of a band on a rail. Mistakes are serious violations in mariachi bands. Mariachi Vargas, by the way, has one of the most laid back but absolutely miraculous Mexican harp players I have ever been amazed by.
Garibaldi Square, Mexico City
Today the Garibaldi Square area is very dangerous. It's in the Colonia Centro district, which in 2009, was the area of the heaviest crime in Mexico City.
El Senor Gringo
(Miquel Verde)
--------------------------------------------------------------------------------------------